Bio of Christos Kartalis

Χρήστος Καρτάλης – ΧΡΗΣΤΟΣ ΚΑΡΤΑΛΗΣ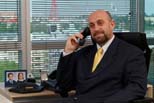 Christos Kartalis has been an active general manager for the past 20 years for multinational companies, including Valeant Pharmaceuticals, Johnson and Johnson and Bristol Myers Squibb.
He currently holds the position of Chief Executive Officer – International at Cipla Ltd, the global healthcare company.
Christos' successful career spans the United States, Europe, Asia, and the Middle East and has included positions of diverse sizes, industries, and cultures. It is through this rich experience that Christos has developed the concepts and practices included in this book. Everything you see in it has been tried and tested, and it works well across the world.
Along with his active general management roles, Christos has been a guest lecturer on the subjects of leadership, marketing, and strategy in Europe, Asia, and the Middle East.
Christos holds an MBA degree from the University of Massachusetts, in the United States, and a Post MBA on General Management from INSEAD, France.
You can reach him at his website: http://kartalismanagementcockpit.com/ or at christos_kartalis@yahoo.com.